Interested in this eLearning Program?
Working with Interpreters
Working with an interpreter is a much more common situation than it has been ever before due to globalization. Business and Health Care travelers are the new normal. Interpreters play a necessary role to ensure efficient and accurate communications between two or more parties that don't speak a common language. Business, legal and medical encounters relay more and more on interpreters that will help ideas, concepts and information to be exchanged successfully. Checking or requesting the interpreter's credentials, training and certifications is a good practice to ensure the interpreter is not a simple bilingual speaker but a professional linguist.
As interacting with a professional interpreter may not be a daily routine for many individuals, we believe it is important to be aware of some of the best practices when interacting with interpreters to ensure that a session that involves a linguist is effective and optimal.
Briefing an interpreter prior a conversation it is in everybody's best interest. Expect that an interpreter will be speaking in first person when interpreting. Also expect that what the interpreter translates might not make sense or answer the questions that you are asking. Please remember that interpreters simply interpret what is being said. Make sure that only one person speaks at any given time and give the interpreter enough time to translate (interpret) what is being said. Cultural nuances can get in the way of effective communication so if you are not familiar with the culture of your counterpart, do a bit of research: it will payoff.
Working with Interpreters in a Professional Setting is available as an e-learning course lecture. The course is designed for employees and teams who work with international and multilingual populations and interpreters. By the end of the course, participants will have a better working knowledge of the interpreting industry, the hiring process for foreign language interpreters, the standards for foreign language interpreters, and best practices for working with foreign language interpreters and multilingual clients or patients.
The course gives an insider's perspective of the interpreting industry. Module one focuses on the role of the interpreter, the differences between interpreters and foreign language speakers, different interpreting styles and specialties, the hiring process for interpreters, and interpreting trainings. Module two explains the differences between working with agencies and independent contractors, proper request procedure for working with an agency, and quick tips for before, during, and after your interpreting session.
The course is timed to last for 30-45 minutes and consists of informational modules and (if requested) an exam with a certificate upon completion and a passing exam result. Each module consists of a variety of informational slides, both lecture and interactive, to broadly engage employees, ensure information retention, and encourage application. This e-learning version of the course is entirely online and easily accessible from our e-learning platform—no downloads or special permissions required. The information is updated regularly to meet current standards. Working with Interpreters in a Professional Setting is further customizable to fit your organization's needs. Please feel free to contact us with any questions or for more information using the below form.
This course has a cost of $49
Once you add this program to the Cart and complete the purchase you will be connected to our eLearning Platform.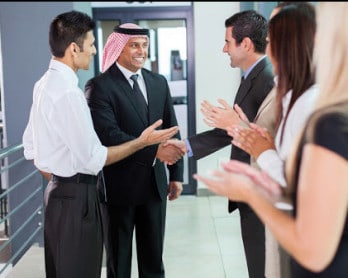 eLearning for corporations – Working with Interpreters in a Professional Setting