Interested in this eLearning Program?
Global Arena's eLearning course, Professionalism as an Interpreter, is aimed at both independent contractors and established bilingual employees who want to start interpreting on the job. Interpreting must be taken seriously; good preparation is the key to the best experience. In this course we will also incorporate guidelines for all interpreting assignments, which will help you turn your basic skills into a professional career.
How to be professional in an assignment
This first module deals with information about accepting the assignment. Accepting the assignment is the most important part and the first step in the process. If you work with an interpreting company, your contact is the head of interpreting. If you are self-employed, your contact is the person who hires you.
Professionalism as an interpreter covers the questions you should always ask before accepting an assignment, such as:
"What is the nature of the assignment"
"When will the assignment take place?"
"Who is my contact at the location?"
"Is there anything specific I should bring to the assignment or for which I should prepare?"
"Please confirm my hourly rate"
This second module includes all the practices you need to carry out once you have accepted the assignment. The most important things to remember are:
Be on time.
Be prepared.
Leave personal convictions at the door.
Ask for help if you need it.
Finally, in this last module that refers to the aspects to consider after the assignment, you should know that there are two ways to finish an assignment.
The client fires you
You arrive at the scheduled end time.
In the first case, if the session takes longer than expected, you should call your boss to let him know.
When you and the client agree that the session is over, you should:
Conclude the session and destroy the notes.
Wait for the client to see you off.
Once the assignment is finished, call or email your contact to let them know.
Starting in the interpreting industry can seem daunting: there's so much to do, so much to learn! Professionalism as an Interpreter is an excellent place to begin building your foundation as an interpreter.
It's an eLearning course timed for one hour. The course consists of three modules, each with interactive mini-review activities. It concludes with a final review, an exam, and a certificate upon completion and a passing exam result. Each module consists of a variety of informational slides, including those in interactive and lecture formats. This broadly engages participants and encourages application. The mix of different slides adds not only visual interest but targets different learning styles to fit all needs. The course is also fully voiced, further encouraging information retention.
Duration, Format, and Pricing
The course is accessible from our eLearning platform. As it's entirely online, it requires no downloads or special permissions. It's available both for independent interpreters and bilingual employees who'd like to learn more about interpreting. As an employer, there's another advantage to using our system: you're able to track your employees' progress and completion rates. If you're working as an independent contractor, you can access your account any time and see your status. You'll also have full access to our course catalogue and resources.
We regularly update the course information to meet current standards. Once you've purchased the course, you have lifetime access to updates and support. Courses in your account have no expiration date. You can re-take them as many times as you'd like. You can also download your certificates at any time. Our eLearning courses are easily accessible from your mobile device. If you're working with an organization, Professionalism as an Interpreter is further customizable to fit your team's needs. Please feel free to contact us with any questions or for more information.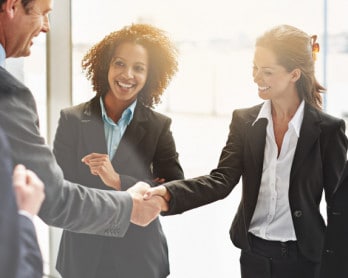 Professionalism as an Interpreter